The Best Propane and Fuel Oil Prices & Service
Current special offers from PepUp
---
Do you trust your propane supplier to offer the best propane and fuel oil prices and prompt delivery? Are you looking for a company that treats you like family?
It's time to experience reliable, regularly scheduled propane delivery at the best possible prices with PepUp. PepUp has been delivering the best service, products, and propane and fuel oil prices to our neighbors on Delmarva since 1963.
Check our expanded service area map to see if we service your location, then call (800) 638-7802 or fill out the form below to learn more about our current special offer.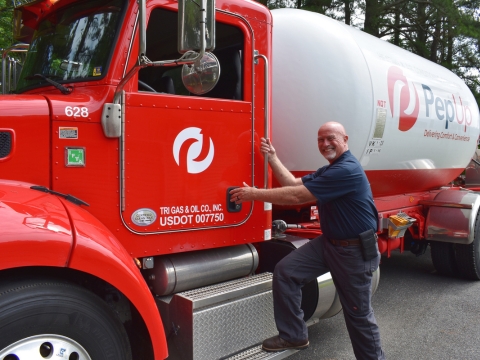 Choose Your Special Offer
---
And Take Control of Your Home Heating Budget

You don't need to stress about your home's winter heating bills, and that means now is the perfect time to sign up for PepUp's Promise Plan.*
The Promise Plan is a level payment program to make your home's winter fuel bills predictable. As a Promise Plan customer, you'll spread out your annual fuel costs over one year. That means you don't have to worry about price increases OR running out of propane. With PepUp Automatic Delivery and "No Run Out" Guarantee, you'll be able to keep the heat on – and the cold out – without adding anything else to your "to-do" list. PepUp has you covered!
Automatic Delivery
"No Run Out" Guarantee
Price Protection
Bonus Credits
Stay cozy and worry-free all winter long, knowing your propane prices won't change and your tank won't ever be empty. Whether you're an existing PepUp customer or want to switch, use the form below to sign up today and stress less this holiday season!
*Offer applies to customers who sign up by December 31, 2023, use our Automatic Delivery service, and use at least 300 gallons of propane each year. Speak with a customer service representative for more details.
Get the latest propane and fuel oil prices from PepUp. We're here to answer all your questions about propane service, delivery, setup, and per gallon pricing.
We listen to your individual needs and work with you to develop a customized plan for your fuel requirements that is sure to fit your home, farm, or business.
With multiple fuels, delivery options, and payment options, we can help you develop a delivery timeline and pricing structure to lock in the best fuel, propane, and fuel oil prices and service anywhere.
Reach out to us to learn more about how we can help.
Fill out the form or call (800) 638-7802 to speak with a customer service representative.